Monday, December 17, 2012

December 17, 2012
HARRY'S WEEKLY UPDATE
A Current Look at the Colorado Springs Residential real estate Market
HI THERE, EVERYONE.
Mid-December to January, every year, seems to produce fewer articles of interest in the real estate industry. Most people are holiday gift shopping for their families and friends. Buying a home in the next couple of weeks isn't at the top of the list. HINT...HINT. We are available to show homes and provide you and your family a huge GIFT -- like Buying or Listing a home before the end of this calendar year.
OH WELL...ANOTHER REGULAR WEEK, BUT IT'S GREAT FOR real estate ACROSS THE USA
The information in this section justifies why we continue to be very positive. As always, our thoughts come from multiple sources within National real estate publications:
Freddie: Great Expectation For Housing In 2013

More Americans Say Now Is A Good Time to Sell

Americans More Bullish on Buying Homes - housing market Looking Up Heading Into 2013

Investors To Boost housing market Again In 2013
FREDDIE: GREAT EXPECTATIONS FOR HOUSING IN 2013
Daily real estate News | Tuesday, December 11, 2012
"The housing market is expected to continue its rise in the New Year, according to Freddie Mac's U.S. Economic and Housing Market Outlook for December.
Some other forecasts for the housing market in 2013..
Home values are expected to increase 2 to 3 percent next year.

Household formation is expected to increase to a net 1.20 million to 1.25 million household in 2013. Housing starts are expected to reach near the 1 million annualized pace by the fourth quarter.

Vacancy rates are expected to drop to 2002 and 2003 levels for apartments and single-family homes for-sale 'as household formation outpaces new construction.'
'The last few months have brought a spate of favorable news on the U.S housing market with construction up, more home sales, and home-value growth turning positive,' says Frank Nothaft, Freddie Mac's chief economist.'"
MORE AMERICANS SAY NOW IS A GOOD TIME TO SELL
Daily real estate News | Tuesday, December 11, 2012
"More Americans are growing confident about selling with the share of those who say now is a good time to sell..
The rise in those who say it's a good time to sell has helped narrow the gap with those who say now is a good time to buy, according to Fannie Mae's November 2012 National Housing Survey, released Monday. Americans are also getting more confident about the direction of the overall housing market and the economy according to the report.
'Consumer attitudes toward both the economy and the housing market continue to gather momentum, with many of our 11 key National Housing Survey indicators at or near their two-and-a-half-year heights,' says Doug Duncan, senior vice president and chief economist of Fannie Mae.
'This growing confidence in a housing recovery, in addition to other factors may reinforce growing consumer optimism regarding the improving direction of the general economy,' Duncan says."
Americans More Bullish on Buying Homes - housing market Looking Up Heading Into 2013
HousingWire | Wednesday, December 12, 1012 - Trulia's 2012 American Dream Survey
INVESTORS TO BOOST housing market AGAIN IN 2013
Daily real estate News | Thursday, December 13, 2012
"Investors have had a big appetite for real estate lately, and they are expected to continue to snatch up homes in 2013 and help push home prices higher."
This past week, the National Association of Realtors Research Department published some interesting data. The title is "How Well Do You Know The Home Buyer and Seller Trends of 2012." The chart below makes the data easy to understand. The highlights are:
Who is buying and selling of married couples?

How many buyers and sellers are first timers?

How much do buyers and seller earn a year?

How do buyers and sellers find an agent and what kind of help do they want?
WHO'S CALLING THE SHOTS: BUYERS OR SELLERS?
Daily real estate News | Wednesday, December 12, 2012
"The housing market is changing, creating a 'new playing field for home owners, who are finally able to sell, as well as would-be buyers who've been delaying a purchase in anticipation that prices would keep falling,' Money Magazine reports.
Still, home sellers should keep their expectation in line: Price increases are to be modest and gradual.
As for buyers, they may need to have a better understanding of the increased competition they may face."
Of course, this data is a bit different per location together with the professionalism of their individual Realtor.
If you have any questions about this data (or any real estate questions), please give us a call at 598.3200 or 800.677.6683 (MOVE).
MORTGAGE RATES CONTINUE TO BE RIDICULOUSLY LOW
Fixed-rate mortgages sank down near their record lows last week, according to Freddie Mac's weekly mortgage market survey. The low mortgage rates are helping to keep homebuyer affordability high and unlock savings for home owners.
30-year fixed-rate mortgages are around 3.32%

15-year fixed rate mortgages are around 3.0%
And here's a different type of mortgage that we introduced to recent clients - YES, CLOSINGS HAPPENED.
****10-year fixed-rate mortgage at 2.75%
With only a 10-year length of time of a mortgage, the monthly payments will be higher

Wouldn't it be nice to have your home paid off around the time that you retire?

This is not a dream. This is reality. AND I CAN HELP YOU MAKE THIS ALL COME TRUE. Contact me at 719.598.3200 or 800.677.6683 (MOVE). Email:

Harry@HarrySalzman.com
Let's consider two issues: house values are going up again, and inflation will be back next year. Both are major parts of our cost of living which is estimated to increase about 3.0% or more.
Here is a WILD thought - If you might be comfortable with a 10-year mortgage at 2.75%, your net expense of a house to be purchased might be offset by appreciation and inflation. Homeowners have experienced that increase in their home's value in recent years. This would make your cost of housing next to zero, and you would have a free & clear mortgage upon retirement.
Another thought - even if your personal budget would be more comfortable with a mortgage of a 15 or 30-year term, mortgage rates are cheap today! Take personal advantage of the current market. BUY.
This past August, I celebrated my 40-year Anniversary in our Colorado Springs real estate business. Over all those years, our local housing appreciation has averaged 5.7% annually, covering every economic cycle over the long haul.
Give us a call to discuss our local market and let us help you find the best deals available. Call at 598.3200 or 800.677.6683 (MOVE).
If you are wanting to buy, sell, trade up, or simply looking for investment property in the Pikes Peak region, Remember—I've got more than 40 years of experience in providing relocation and real estate services to clients throughout the world. I am uniquely qualified to assist you in making the best decision for your individual wants and needs and always take that into consideration when negotiating on your behalf. You can also contact me at Harry@HarrySalzman.com,
Whether a first time Buyer, a trade up, or looking for a investment, treat yourself and BUY A HOME NOW. Give yourself a Christmas present. You deserve it.
To all of our Readers, our next issue will be in January 2013. Happy New Year.
Thanks for being part of my eNewsletter family and for sharing it with your family, friends and clients. It is a source of pride that this publication is written each week in the same locale where "America The Beautiful" was written.
Harry
Harry A. Salzman. CRS, CRP, CNE
e-Pro Internet Certified
Broker/Owner
email: Harry@HarrySalzman.com
Serving: Colorado Springs, Monument. Air Force Academy, Fountain,
Security, Woodland Park, Black Forest, Manitou Springs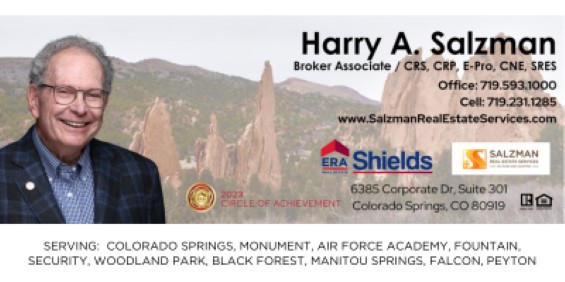 Harry Salzman, Salzman real estate Services, Ltd
538 Garden of the Gods Road, Colorado Springs CO 80907
719-598-3200 or Toll Free: 800-677-MOVE(6683)




Visit http://www.SalzmanRealEstateServices.com
Change your email preferences here.