HARRY'S WEEKLY UPDATE
Monday, December 10, 2012

December 10, 2012
HARRY'S WEEKLY UPDATE
A Current Look at the Colorado Springs Residential real estate Market
HOLIDAY GIFTS TO COLORADO SPRINGS HOMEOWNERS
The increase in Residential real estate closings in November 2012 have provided Christmas gifts to Homeowners.
Our local housing market has demonstrated that "Owner Occupied" and "Investors" are receiving an increase in the value of their homes.
The highlights are:
Average Sales Price is $218,230
up 6.3% since Nov 2011
Median Sales Price is $185,000
up 9.7% since Nov 2011
Active Listings for Single Family / Patio Homes
are down 9.4% since Nov 2011
up 14.9% since Nov 2011
We have been suggesting that the people who have been waiting to buy, should look out for themselves and take advantage of today's market. We feel that two costs will be higher next year: the prices of Listed Houses will be higher and Mortgage rates should be more expensive than today.
The statistics trend of last month and all of 2012 show the basics. Every figure concerning Colorado Springs housing has increased since one year ago and inventory of listings are down. Therefore, as we experience an upturn in housing demand while the listing supply is down, the housing prices will climb. (Sure, anything can change via government)
Currently, the USA Economy is expected to see 4 to 6% of inflation in 2013. Our personal cost of living should rise next year. As we understand it, housing is a large function of an industry within cost of living.
Here are the titles of local reports for Colorado Springs ending November 2012.
Listing and Sales Summary

Monthly Listing Activity / per area

Monthly Sales Activity / per area

Active & Sold Listings / per price range

Monthly Sales Analysis / per area
Click here for the 12 pages of the data
LOCAL HOMEBUILDERS ARE THE HAPPIEST THAT THEY HAVE BEEN IN 5 YEARS!
November was the best month of new construction since 2007. Pikes Peak Regional Building is reporting that there were 182 Single Family permits, which is up almost 50% since Nov 2011.
In an article in The Gazette | Tuesday, December 4, 2012, Homebuilding in Pikes Peak Region Hits Five-Year High - Permits for single-family homes total 182 in November, a nearly 50 percent jump over last year, Rich Laden states, "The pace of homebuilding in the Pikes Peak region reached a five-year high last month, as the housing market continued to rebound from years of recession-induced struggles.
"Building permits for single-family homes -- which are issued to local builders when they're ready to construct homes and serve as a key measure of building activity -- totaled 182 in November, a nearly 50 percent jump over the same month last year, according to a Pikes Peak Regional Building Department report released Monday.
"For the first 11 months of the year, building permits totaled 2,065 -- surpassing the 2,000-mark for the first time since 2,135 permits were issued in 2007.
John Bissett, board president of the Housing and Building Association of Colorado Springs, said "Not only are buying conditions favorable, but many of today's buyers are existing homeowners who had sought to move up, but couldn't get a fair price for their homes the past few years...Now, many of those move-up buyers are seeing homes in the re-sale market selling relatively quickly, and prices are on the way up."
Rich Laden also reports, "In addition to the positive report on housing, the area's foreclosure picture brightened in November. Foreclosure filings totaled 212 last month, the fewest in any month since 180 in December 2006, an El Paso County Pubic Trustee report showed Monday."
We would like to point out that another economic value to our city is that with this high number of housing construction, there are millions of dollar income from sales tax of construction materials to our city and county.
If you have any questions about this data (or any real estate questions), please give us a call at 598.3200 or 800.677.6683 (MOVE).
AFFORDABILITY - A FORECAST
Many nationwide publications are now addressing what we have been perusing this past year. Your mortgage interest rate will more significantly impact return on investment. It is anticipated that long term rates are scheduled to begin moving up in 2013.
It is important to consider the long term benefits of today's rates and the likelihood that we will not see the same opportunity again in our generation. When interest rates mirror this chart, once again we should see appreciation in market values of houses. Those considering a purchase should act. Now is the time to buy a home.
Whether upgrading or downsizing, sellers certainly enjoy a more favorable market position today when compared to that of only a year ago. Inventory has decreased while Buyer side confidence has essentially been restored. With equity restoration as a result of increasing values, many Sellers once again control their own destiny. They can Sell, Buy, or rent. There are finally choices. But if the property no longer fulfills their lifestyle, we encourage them to acquire a property better suited to their needs. NOW.
If you are considering a real estate transaction, thorough analysis and competent representation are essential (such as Salzman real estate Services). We are in a transitioning market. If you understand the underlying facts, we can continue to make good business decisions logically and without emotion. I am real estate professional and accept responsibility for keeping my friends, neighbors, and business community informed in all aspects affecting the Real Estate portion of their holdings.
Give us a call to discuss our local market and let us help you find the best deals available. Call at 598.3200 or 800.677.6683 (MOVE).
If you are looking to Buy, Sell, trade up, or simply looking for investment property in the Pikes Peak region, Remember—I've got more than 40 years of experience in providing relocation and real estate services to clients throughout the world. I am uniquely qualified to assist you in making the best decision for your individual wants and needs and always take that into consideration when negotiating on your behalf. You can also contact me at Harry@HarrySalzman.com,
WHAT'S REALLY DRIVING THE RISE IN HOME PRICES?
Daily real estate News | Tuesday, November 27, 2012
"The Wall Street Journal recently cited five significant factors behind the rise in home prices, as numerous markets see significant year-over-year gains. The big price drives are:
The rise in housing affordability

- which is drawing more buyers out into the market who are looking to cash in on low mortgage rates and fallen home prices compared to a few years ago.

The rise in household formation

- which is expected to hit 1 million new households this year. That is up from an average of 570,000 over the last five years, according to data by Bank of America Merrill Lynch.

The rise in rents

- which has prompted more investors to purchase properties to rent out and more renters to second-guess why they are paying so much in rent when they could buy.

The decline in distressed sales and foreclosures

- which has fallen significantly this past year. While distressed sales are still high by historical standards, they have fallen from their peaks in most markets, helping to alleviate the downward pressure on home prices in many area.

Inventories of homes for-sale at their lowest levels in nearly 50 years

- and builders have cut back on construction and many home owners are waiting to sell until they can recover some equity on their properties."
Source: "Five Reasons Homes Prices Have Been Rising" The Wall Street Journal |Tuesday, November 27, 2012
WE'RE HERE TO SERVE ALL YOUR real estate NEEDS
We've been keeping you up-to-date on a weekly basis concerning the Colorado Springs market and want to remind you that if you are looking….the time is NOW. There are going to be fewer choices in the coming months and prices are sure to be higher. And with mortgage rates at an all time low, you can't afford to wait. BUY NOW.
FEATURED LISTING
44 Misty Creek DR

| | | | |
| --- | --- | --- | --- |
| Price: $249,900 | Beds: 4 | Baths: 4 | Sq Ft: 2641 |

Wonderful 2-Story w/Pikes Peak Views on Cul-de-Sac* Home can be Main Level Living* Tons of charm & upgrades*Open, light & airy* 4BD, 4BA, 2 Car* Professionally finished basement* ML Master Bedroom w/ceiling fan, walk-in closet* 2 BA's, Laundry* Kitc...
Harry A. Salzman. CRS, CRP, CNE
e-Pro Internet Certified
Broker/Owner
email: Harry@HarrySalzman.com
Serving: Colorado Springs, Monument. Air Force Academy, Fountain,
Security, Woodland Park, Black Forest, Manitou Springs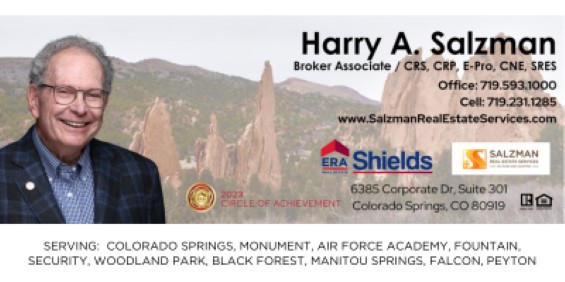 Harry Salzman, Salzman real estate Services, Ltd
538 Garden of the Gods Road, Colorado Springs CO 80907
719-598-3200 or Toll Free: 800-677-MOVE(6683)




Visit http://www.SalzmanRealEstateServices.com