Monday, November 26, 2012

HARRY'S WEEKLY UPDATE
A Current Look at the Colorado Springs Residential real estate Market
Surprise, it's already Monday AGAIN!! Hope everyone enjoyed their holiday with friends, family and TURKEY. Last week's update went out and we found that many of our readers started their holidays quite early, so...we decided to share last week's information with you again. Of course , we always want all of our readers to be kept up to date on all the latest real estate news. So for the really fresh stuff come by our office or just give us a call. Enjoy.
HERE ARE SOME FORCASTED STATISTICS FROM THE 2012 NATIONAL REALTORS CONFERENCE AND EXPO
RISMedia, DSNews.com, Realtor Magazine, 11.12.12
The housing market recovery should continue through the coming years, assuming there are no more limitations on the availability of mortgage credit.
According to Lawrence Yun, chief economist of the National Associate of Realtors, "Existing-home sales, new-home sales, and housing starts are all recording notable gains this year in contrast with suppressed activity in the previous four years and all of the major home price measures are showing sustained increases."
Yun also sees no signs of increased inflation in 2013 but predicts it to be in the 4-6 percent range by 2015 due to the federal budget deficit likely pushing up borrowing costs and raising inflation well above 2 percent.
Inflationary pressures are being raised due to rising rents, qualitative easing (the printing of money), federal spending outpacing revenue, and a national debt which is roughly equal to 10 percent of Gross Domestic Product.
Mortgage interest rates are forecast to rise gradually and should average 4.0 percent next year and 4.6 percent by 2014 due to the inflationary pressure.
Meaningful higher home prices are predicted by Yun. This is due to rising demand and an ongoing decline in housing inventory. The national median existing-home price should rise 6.0 percent to $176,100 for all of 2012 and increase another 5.1 percent next year to $185,200. He forecasts comparable gains in 2014.
Yun said, "real estate will be a hedge against inflation, with values rising 15 percent cumulatively over the next three years, also meaning there will be fewer upside-down owners. Today is a perfect opportunity for moderate-income renters to become successful home owners, but stringent mortgage credit conditions are holding them back."
Home sales and construction depend on steady job growth which we are seeing, but we have thus far only regained half of what was lost during the recession.
Yun indicated that four years from now there will be a much greater disparity in wealth distribution. "People who purchased homes at low prices in the past couple years, including many inventors, can expect healthy growth in home equity over the next four years, while renters who were unable to get into the market will be in a weaker position because they are unable to accumulate wealth," he said. "Not only will renters miss out on the price gains, but they'll also face rents rising at faster rates."
For those of you who have been reading my eNewsletters, this is not anything new. I've been telling you for some time that this is happening and sitting and "waiting it out" isn't an option anymore for those who are looking to buy, either first homes, moving-up homes or simply for investment. Prices are on the rise, rental rates are up and continuing to go up and mortgage rates won't be this low for much longer. Need I say more? Give me a call at 598.3200 and let's discuss how you can benefit from the above statistics. It's my job to help all my clients be in top tiers of that wealth disparity that Yun is talking about.

THIS WEEK I'M GIVING THANKS FOR YOU
As Thanksgiving approaches, I'm aware of the many things for which I have to be thankful. And right at the top of that list is you-- my friends, clients and readers--new and old--who have let me into your life and have shared so much with me. I have developed long term relationships with many of you and find myself now working with your family members to help them in the same manner in which I have always tried to help you. I am thankful for your support and friendship and look forward to continue working with you and your family for many years to come.
I wish all of you a very Happy Thanksgiving.
WE'RE HERE TO SERVE ALL YOUR real estate NEEDS
Whether you're considering buying, selling, investing or simply need help in making an informed decision about what fits your individual housing or investment needs, we're here to help. Just give us a call at 598.3200 or 800.677.MOVE (6683) today.
And if you have a friend, family member or co-worker who wishes to buy or sell local real estate, or who is planning a move to the Pikes Peak region, remember—I've got more than 40 years of experience in providing relocation and Real Estate services to clients throughout the world. I am uniquely qualified to assist them in making the best decision for their individual wants and needs and always take that into consideration when negotiating on their behalf. Have them contact me at Harry@HarrySalzman.com and I will be happy to add them to our eNewsletter list, or better still, send me a note with their email address and I will take care of it right away.
JOKE OF THE WEEK
There was once a young man who, in his youth, professed a desire to become a "great" writer. When asked to define "great" he said "I want to write stuff that the whole world will read, stuff that people will react to on a truly emotional level, stuff that will make them scream, cry, wail, howl in pain, desperation and anger!"
He now works for Microsoft writing error messages.
FEATURED LISTING
44 Misty Creek DR

| | | | |
| --- | --- | --- | --- |
| Price: $249,900 | Beds: 4 | Baths: 4 | Sq Ft: 2641 |

Wonderful 2-Story w/Pikes Peak Views on Cul-de-Sac* Home can be Main Level Living* Tons of charm & upgrades*Open, light & airy* 4BD, 4BA, 2 Car* Professionally finished basement* ML Master Bedroom w/ceiling fan, walk-in closet* 2 BA's, Laundry* Kitc...
Harry A. Salzman. CRS, CRP, CNE
e-Pro Internet Certified
Broker/Owner
email: Harry@HarrySalzman.com
Serving: Colorado Springs, Monument. Air Force Academy, Fountain,
Security, Woodland Park, Black Forest, Manitou Springs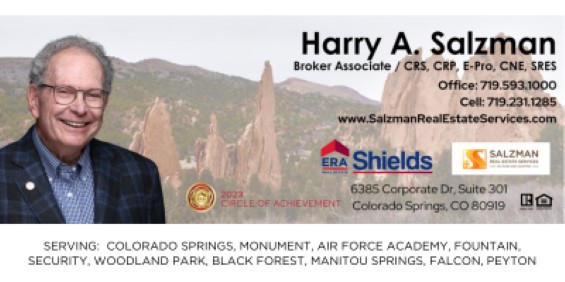 Harry Salzman, Salzman real estate Services, Ltd
538 Garden of the Gods Road, Colorado Springs CO 80907
719-598-3200 or Toll Free: 800-677-MOVE(6683)




Visit http://www.SalzmanRealEstateServices.com