HARRY'S BI-WEEKLY UPDATE 5.2.17
Tuesday, May 2, 2017
May 2, 2017
HARRY'S BI-WEEKLY UPDATE
A Current Look at the Colorado Springs Residential real estate Market
As part of my Personal Service, it is my desire to share current real estate issues that will help to make you a more successful and profitable buyer or seller.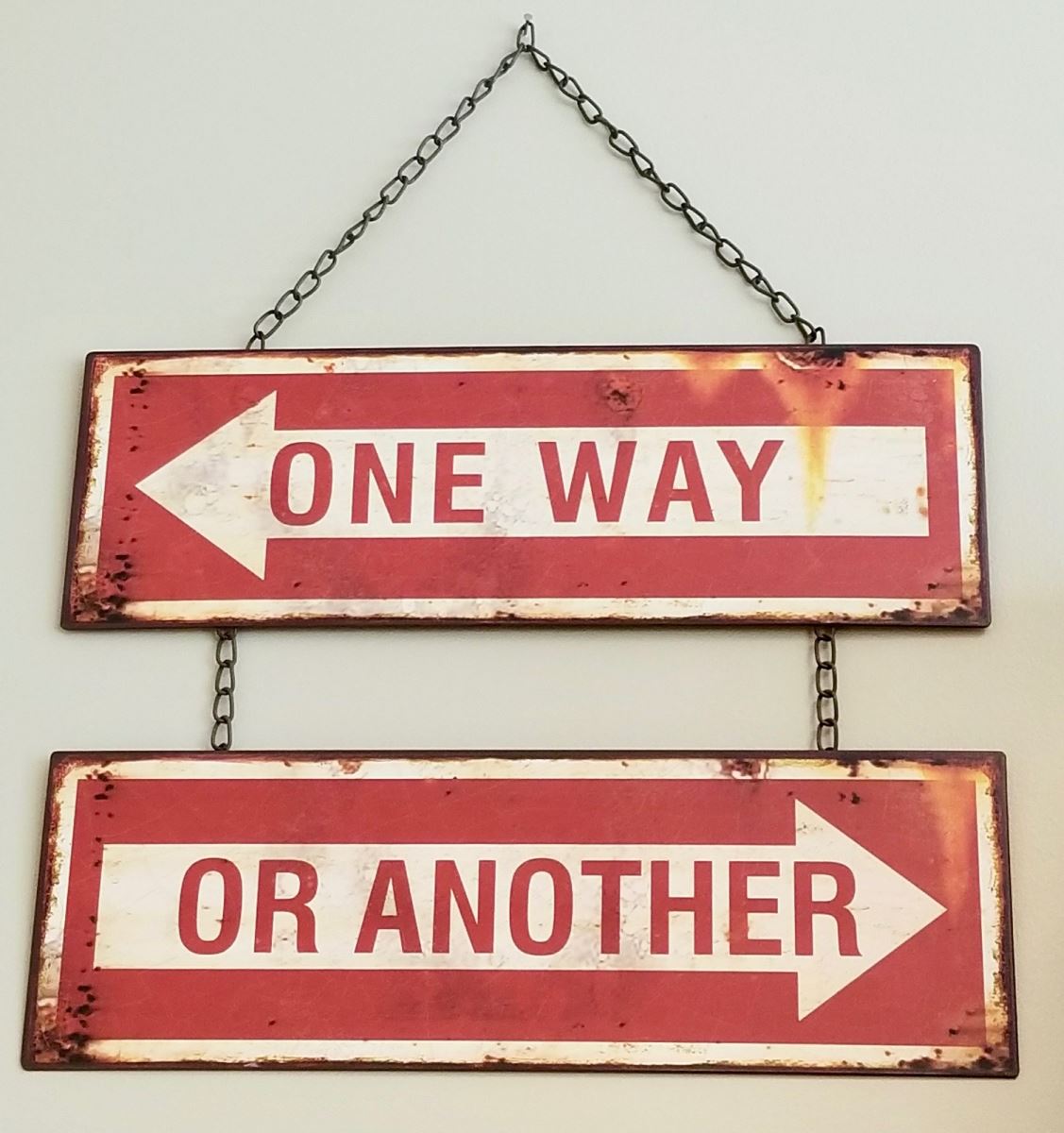 A SIGN OF THE TIMES….
Those of you who have visited my office in the last year have seen this sign on the wall near my desk. Getting what my clients want --"one way or another" --has always been my motto and in recent times it's become somewhat of a mantra, too.
Yes, things are continuing to be crazy in residential real estate here in the Pikes Peak arena and in pretty much most of the U.S.A.
Our improved economy and healthy job market coupled with topping the "best" livability lists has created a frenzy that just keeps on rolling.
Rental rates of apartments in the Springs jumped 10.5% in the first quarter of this year, reaching a record average monthly high of $1,060.84. This is resulting in more first-time home buyers as well as first-time investment buyers, both of which are helping reduce the number of available homes for sale.
Potential sellers, while seeing the appreciation in their current homes, are also wondering where they might go if their home sells too fast so are not listing their homes as quickly as in past years.
Things are happening at such a fast pace that I can hardly keep you, my clients and readers, up to date with it all.
I can barely get a home listed in the $300,000 and under range and it immediately has multiple offers, most at list price or over and with very few contingencies and short turnaround times in many cases. And it's happening in a matter of hours, not days!
For many months I've been telling you that the time to buy is now. Well, that's changed. Now I'm telling you—Get In Line To Buy Now!
It's most definitely continuing to be a Sellers Market and there are a number of reasons for that. Fewer listings than ever limit the possibilities for those looking and all cash deals are also a culprit as they make it easier on the seller.
In fact, I've been able to help a number of my buyers make more aggressive offers by using "other assets" initially in order to get an offer accepted and avoid contingencies and objections that might hurt their chances with the seller.
While obstacles certainly exist in the current residential market, there are still homes available in most price ranges and in many neighborhoods that can fit your individual wants, needs and budget. Like I said, -- "One Way or Another"-- if it's at all possible I will get it done for you.
These home shortages and accelerating prices are not just a Colorado Springs thing. Rental and home prices all across the country are rising fast— and for the first time in a decade, more new U.S. households have chosen to buy than rent, which suggests that the long-term decline in homeownership might be coming to an end.
Home prices on existing homes across the U.S. are at their highest pace in 10+ years. This is getting what would traditionally be the "spring buying season" off to a busy start and it doesn't appear to be letting up anytime soon.
If you're looking to sell and trade up—NOW is a great time—but be prepared for all of the above. And get in line to buy!
New construction is also moving at a rapid pace and if that's the direction you are headed, I can help you navigate those waters, too. Knowing the "right" questions to ask a builder can make selecting a "new" home much easier.
I'd like to remind you once again of the importance of having an experienced real estate professional on your side. It's essential to have one who knows how to negotiate a deal and the ins and outs of writing contracts that have a good chance of being accepted the first time. And one who can help you find a lender that provides quality care along with competitive rates. My clients can testify to my special brand of customer service that they have come to expect and deserve.
If you, a family member, neighbor or co-worker are considering a residential real estate transaction, please call me at 593.1000 or email me at Harry@HarrySalzman.com and let's see how we can make things happen. You'll be glad you did.
LOCAL HOME SALE PRICES CONTINUE UPWARD…
It's sounding like a broken record, but then…it IS breaking records. In comparing April 2017 real estate average and median sales prices to April 2016—they are once again up—up—up. That has been keeping me very busy and should keep a big smile on your faces.
In the Single Family/Patio Home category, average sales price in April was $311,829 and median sales price was $275,000. This is an increase of 13.4% and 10.9% respectively year-over-year.
In the Condo/Townhome category the average sales price was $199,667 and the median sales price was $190,000, up 13.0% and 18.8% respectively year-over-year.
Homes are selling at 100.3% of listing price and a low average of 25 days on the market. Yes, you read that right. As I mentioned earlier—things are a bit crazy in residential real estate!
As you will see in the Cumulative Year to Date Summary, total sales numbers in Single Family/Patio Homes and Condo/Townhomes are up 2.5% and 18.8% respectively for year-over-year. This number would have been even higher if we had more listings.
The Monthly Summary shows that compared to a year ago, total active listings are down 24.5% for Single Family/Patio Homes and 30.6% for Condo/Townhomes, continuing the downward trend that tends to favor sellers. New listings are down 6.9% for Single Family/Patio Homes and up 7.2% for Condo/Townhomes.
For more details on the local April 2017 PPAR reports, please see the next article.
LOCAL RESIDENTIAL real estate IS BOOMING BUT STILL HAMPERED BY LOW INVENTORY
Statistics provided by the Pikes Peak REALTORS Service Corp, or it's PPMLS
Here are some highlights from the April 2017 PPAR report. Please click here to view the detailed 14-page report, including charts. If you have any questions, just give me a call.
In comparing April 2017 to April 2016 in PPAR:
Single Family/Patio Homes:
New Listings are 1,817, Down 6.9%

Number of Sales are 1,309, Up 3.2%

Average Sales Price is $311,829, Up 13.4%

Median Sales Price is $275,000, Up 10.9%

Total Active Listings are 1,570, Down 24.5%
Condo/Townhomes:
New Listings are 267 Up 7.2%

Number of Sales are 207, Up 17.6%

Average Sales Price is $199,667, Up 13.0%

Median Sales Price is $190,000 Up 18.8%

Total Active Listings are 111, Down 30.6%
COLORADO SPRINGS AREA MONTHLY SINGLE FAMILY/PATIO HOME SALES ANALYSIS*
Median Sales Price Median Sales Price
April 2017 April 2016
Black Forest $529,500 $435,000
Briargate $390,000 $322,500
Central $244,945 $189,000
East $244,500 $215,500
Fountain Valley: $242,000 $227,250
Manitou Springs: $386,500 $322,500
Marksheffel: $296,500 $259,900
Northeast: $275,000 $250,000
Northgate: $439,950 $433,450
Northwest: $397,500 $330,000
Old Colorado City: $252,450 $188,125
Powers: $255,000 $240,000
Southwest: $290,000 $246,000
Tri-Lakes: $450,000 $448,442
West: $245,500 $240,000
*Statistics provided by the Pikes Peak REALTORS Services Corp,or its PPMLS.
SOME EXCELLENT "RULES" FROM THE 5280 MAY 2017 ISSUE
5280, MAY 2017
While I rarely compare the Colorado Springs market to Denver, a recent article from the 5280 Magazine entitled "real estate Guide" caught my eye and I wanted to share some of the points made in that article. They are definitely worth noting.
Understand the impact of record-low inventory levels

. Potential sellers hold off because of worry about finding a new place to live and this builds up demand, which leads to prices going up even further.
Target traditionally quiet times to buy and sell in what's now a yearlong market.

With the up and down times of the market no longer predictable, why not pick a "quiet" time, such as when others are away on holidays, skiing or summer vacation as a strategy.
Don't count on rising interest rates to stall the market.

Small rate increase such as the ones we've had so far aren't likely to stall a hot market.
Find a rock star agent and be prepared to offer more than list price.

That's an easy one as you've got me. As for price—you've been warned.
Beware of buyer fatigue.

Some folks have gotten tired of not getting their offers accepted so they have gone back to renting. That shouldn't happen if your agent has done the homework for you—see number 4 above.
Assume the seller is listening.

Even if you're walking around an empty house, always assume someone is listening so be cautious of what you say when you are in a property. It may erode your buying power.
Ignore conventional geographic boundaries.

In this type of market, it behooves you to have an open mind and consider neighborhoods that you might not have considered prior to this search. There are many new developments on the rise as well as older ones that could have exactly what you are looking for but may have overlooked.
Increase your budget to decrease your stress.

Competition for a home thins as you move up in the list price, and can even swell to a buyer's market when the price tag goes over a certain amount. Just don't expect any killer deals as many sellers are willing to wait for the right offer.
Love the one you can afford.

No matter your price range, it's likely you will need to compromise (on cost, location, size) to find your ideal home. When you determine the type of lifestyle you desire, I can then look all over the city for a home that meets those requirements. That makes your search a little less stressful.
Consider buying new.

As I mentioned earlier, new homes are becoming more of a consideration as the available existing homes for sale decrease. There are various types of homes in all price ranges and I can certainly check them out to see which ones might meet your wants, needs and budget.
LET'S TALK ABOUT RENTALS…DON'T GET CAUGHT UP IN THAT TRAP
Keeping current matters, 4.11.17
One of the many benefits of homeownership is being able to protect yourself from rising rents by locking in your monthly payment for the life of your mortgage.
Don't Become Trapped
Jonathan Smoke, Chief Economist at realtor.com, in discussing what he terms a "Rental Affordability Crisis" warns that, "Low rental vacancies and a lack of new rental construction are pushing up rents, and we expect that they'll outpace home price appreciation in the year ahead."
In the "2016 State of the Nation's Housing Report", the Joint Center for Housing Studies at Harvard University revealed that "The number of cost-burdened households rose to 21.3 million. Even more troubling, the number with severe burdens (paying more than 50% of income for housing) jumped to a record 11.4 million".
It's Cheaper to Buy than Rent (Yes, this is typically true in Colorado Springs)
Smoke went on to say, "Housing is central to the health and well-being of our country and our local communities. In addition, this (rental affordability) crisis threatens the future of owned housing, as the burdensome level of rents will trap more aspiring owners into a vicious financial cycle in which they cannot save and build a solid credit record to eventually buy a home."
"While more than 85% of markets have burdensome rents today, it's perplexing that in more than 75% of the counties across the country, it is actually cheaper to buy than rent a home. So why aren't those unhappy renters choosing to buy?"
Know Your Options
Many analysts believe that "it's not that Millennials and other potential homebuyers aren't qualified in terms of their credit scores or in how much they have saved for a down payment".
"It that they think they're not qualified or they think that they don't have a big enough down payment."
With all of the programs available from both the FHA and various lenders, many of these folks actually need far less than they think in order to become homeowners. Lending and down payment requirements have changed a lot in the last few years, most especially for first-time buyers.
Bottom Line?
Don't get caught in the trap of believing that home ownership is not an option for you. Just give me a call sooner than later and let's see what we can do to turn you from a renter to an owner, and save you money in monthly housing costs while building equity for your future.
UPDATED STATS FROM UCCS ECONOMIC FORUM
UCCS Economic Forum, College of Business, updated as of 4.21.17
For a current update from the UCCS Economic Forum on both local and national statistics, please click here.
One of the things you will see is that Colorado Springs has 11,263 job openings, with the median salary of posted jobs at $67,650. This is another factor affecting our low available listings and high rental rates.
The charts are mostly self-explanatory but if you have any questions, just give me a holler.
SKY SOX TICKETS NOW AVAILABLE
It's time to reserve your complementary tickets for my first row, right behind home dugout seats for a Sky Sox game.
I've got four of those available for each and every game and as always; they are available on a first-come, first-served basis.
It's a fun time for you and your family and it's my pleasure to provide this to you as I have for the past 30 years. The Friday night fireworks and Sunday 50-cent hot dog days are the most popular, so get your requests in sooner than later.
Simply give me a call at 593.1000 or email me at Harry@HarrySalzman.com and I'll make certain to save tickets for any available game for you.