Wednesday, February 19, 2014
February 18, 2014
HARRY'S BI-WEEKLY UPDATE
A Current Look at the Colorado Springs Residential real estate Market
As part of my Personal Service, it is my desire to share current real estate issues that will help to make you a more successful and profitable buyer or seller.
COLORADO SPRINGS VOTED MOST ROMANTIC CITY
Well, now it's official. The Wall Street Journal's article on Thursday titled "The Best Places to Find Love" told us what we already knew. Not only can we claim breathtaking mountain views, home to the U.S. Olympic Committee and the U.S. Air Force Academy and the birthplace of the song "America the Beautiful", but we are now the "Most Romantic City in the U.S.".
"According to data gathered by researchers at Facebook, Inc., Colorado Springs residents couple up in committed relationships at a higher rate than in other major cities." Some of the reasons cited were strong military and religious communities along with being a college town and an outdoor sports hub attracting more men than women.
The article says that "it's a place where people keep fit, active and social, and the growing downtown bar scene probably doesn't hurt".
So, if you're looking for romance, or just looking to keep romance alive, this is the place to be.
NAR PUBLISHES FOURTH QUARTER HOUSING STATS…PIKES PEAK AREA STILL DOING WELL IN COMPARISON
The Wall Street Journal, 2.12.14 and NAR
In a report of the164 largest metropolitan areas by the National Association of Realtors (NAR), many of the hottest real estate markets started to cool in last year's fourth quarter and suggests that higher interest rates and "sticker shock" pushed some Buyers to the sidelines at year-end.
Released last week, the report includes every MLS sale in these cities over the past four quarters, as well as the past four years.
The median price of an existing home was $196,900, a 10.1% increase overall from a year earlier, compared to the third quarter 2013 which had shown a median price gain year over year of 12.5%.
"The largest gains continue to be in the markets that were hard hit by the real estate bust and have seen a frenzy of investor interest during the past year. Many of those markets, however, have cooled a bit, which real-estate agents contend is a good thing because the price run-up had started to scare off Buyers."
Lawrence Yun, NAR chief economist, said there are two ways of looking at the price gains. "The vast majority of homeowners have seen significant gains in equity over the past two years, which is helping the economy through increased consumer spending," he said. "At the same time, home prices have been rising faster than incomes, while mortgage interest rates are above the record lows of a year ago. This is beginning to hamper housing affordability."
"Added housing supply will help moderate price growth this year, and should help to stem erosion in affordability, but mortgage interest rates are projected to rise above 5 percent by the end of the year," Yun said.
NAR President Steve Brown said consumers need to keep in mind that all real estate is local. "The national figures provide useful background, but it really gets down to supply and demand in a given neighborhood," he said. "Metropolitan area figures are an excellent gauge of local housing markets, but there can be widely ranging conditions within a metro area. This is why it's best to consult with a Realtor who has additional resources and can provide much greater detail on specific locations."
Colorado Springs showed a 4.5% growth over the same quarter last year; however, the median sales price in our area was $217,600—10% higher than the median price of the top 164 cities.
This higher local appreciation is due to Colorado Springs having lower foreclosure percentages than many other areas in recent years and the home values here didn't dip as low as they had in other cities.
We are forecasting the increase in housing values for the Colorado Springs area to be in the 3-5% range in 2014.
For a look at all 164 markets included in the data base, please click here. As always, I'll be happy to answer any questions you may have regarding this survey or any real estate situation.
MORTGAGE RATES SLIDE AGAIN
Wall Street Journal, 2.6.14 and Main St by Brian O'Connell, 2.12.14
Mortgage rates fell to their lowest level since mid-November due to unease over economic growth in the U.S. and market turmoil abroad drove investors to load up on government bonds, thus pushing down long-term interest rates.
While this hasn't triggered any meaningful gain in home-loan refinancing, it is causing potential Buyers and Sellers to wonder if they can afford to wait much longer before taking action.
With most real estate industry observers saying mortgage rates will rise significantly in 2014, to roughly 5% for a 30-year fixed-rate mortgage, many fence-sitting Buyers (and Sellers who want to sell and trade-up) could pay a steep price for waiting.
As I write this, the current interest rate of a 30-year, fixed-rate mortgage is 4.0%.
SPRING SALES RUSH STARTING EARLIER THIS YEAR
Bloomberg 2.7.14 and Keeping Current Matters, 2.11.14
Despite harsh weather across most of the country, the spring selling rush may already be underway as some homeowners appear to be listing their properties to take advantage of the rebounding home prices and improved equity.
Sellers appear to be somewhat worried about what the spring will bring in terms of higher interest rates and the possibility of too much available inventory or even a possible housing crunch.
Last year inventory shortages persisted when supply was at a 12-year low leading into spring and the shortage helped boost home prices and sparked bidding wars in some areas. With new home construction now at a third of its 2006 peak, inventories will likely still be tight this spring. However, economists are saying that improved home prices will likely convince more Sellers to sell this year, and that should relieve the inventory crunch.
"Rising inventory is the primary reason that we expect the pace of price gains to drop back," says Paul Diggle, property economist for Capital Economics Ltd. "Prices are expected to rise only 4 percent nationally this year, compared to an 11 percent gain in 2013."
How does this affect you? Well, if you've been considering selling to trade up or buying for investment purposes, now is the time to start the ball rolling. With home values up, most people are seeing gains in their home equity, thus allowing them to move forward on plans to upgrade, or downgrade, depending on their needs.
Here are Five Reasons to Buy a Home Now Instead of Waiting:
Supply Is Shrinking

—finding the home of your dreams may be more difficult going forward with no longer a large assortment to choose from. Homes in the best locations sell first so you don't want to miss out.

Price Increases Are on the Horizon

—prices are projected to appreciate by over 25% from now to 2018. First time Buyers will likely pay more in interest rates and price if they wait until spring. Even if you want to Sell and Trade Up, it will likely cost you more in net dollars as the home you will buy will appreciate at approximately the same rate as the home you now own.

Owning a Home Helps Create Family Wealth

—in a recent Fed study it was revealed that the net worth of the average home owner is 30 times greater than that of a renter. Whether you own or rent, you are paying someone's mortgage. Why not let it be yours?

Interest Rates are Projected to Rise

—the Mortgage Bankers Association, the NAR, Freddie Mac and Fannie Mae are all projecting that the 30-year mortgage interest rate will rise to over 5% by this time next year.

Buy Low, Sell High

—real estate today is "low" in comparison to where it's projected to go, so if you're looking to Buy—again, don't wait too long.
Interest rates are still low but not likely to remain that way and available options are not what they were, but there are still enough choices to satisfy most consumers. But—if you're thinking about it—don't wait too long. Call me today at 598.3200 or email me at Harry@HarrySalzman.com and let's see if this is the right time for you. I can help you make an informed decision based on your personal needs, wants and budget.
STEVE WOZNIAK WAS KEYNOTE AT CSBJ'S CELEBRATE TECHNOLOGY EVENT
I attended the "Celebrate Technology" event sponsored by the Colorado Springs Business Journal on February 7, 2014 and was enlightened by keynote speaker, Steve Wozniak, "The Woz", who co-founded Apple Computer with Steve Jobs.
His insight into technology, education, product delivery and company management was refreshing and insightful. Hearing about the beginnings of Apple Computer "straight from the horse's mouth" was also a treat. Below is a picture of me with "the Woz".
I want to take a moment here to congratulate all of the companies and individuals honored at the "Technology Celebration" and to commend the CSBJ on putting on such a terrific event. I look forward to more speakers of the caliber of Steve Wozniak.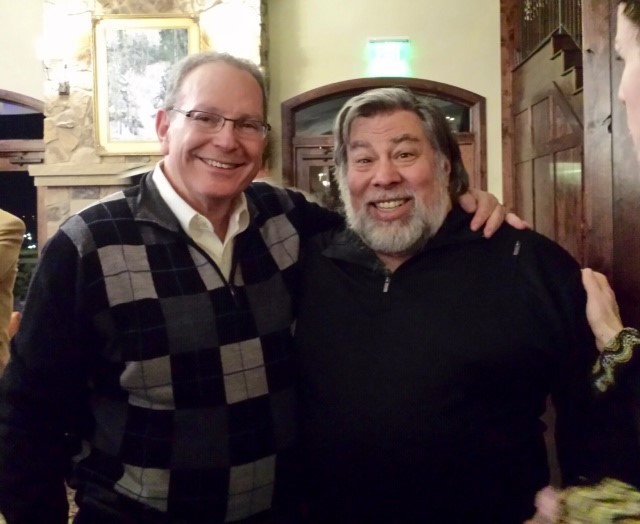 Me with Steve Wozniak at "Celebrate Technology"
HARRY'S INTERESTING TIDBIT OF THE DAY
Since the first Winter Olympic games in 1924 through the Vancouver games of 2010, Norway, with a population of five million, has won more gold and total medals (303) than any other nation. The U.S. is second in gold and total medals (254) but has a population of 314 million, 63 times that of Norway. This year these nations will again fight it out for spot number one.