HARRY'S WEEKLY UPDATE
Tuesday, February 5, 2013

January 28, 2013
HARRY'S BI-WEEKLY UPDATE
A Current Look at the Colorado Springs Residential real estate Market
relocation IS ON THE UPSWING WITH THE MARKET UPTURN
I've been quite busy lately…not only with my local clients, but also helping a number of new folks relocate from their present locales to new places all over the globe. One is leaving France for Fort Lauderdale; another from Jacksonville, FL to Scottsdale while another is going from Chicago to Detroit. These folks represent just a small portion of those that I helped in their relocation process during the past week. And how do I do this you may wonder? Well, as a long time member of the Relocation Directors Council I have made contacts with Realtors all over the country….and the world…and because of that I am able to be assured that those who are relocating somewhere other than the Colorado Springs area will receive the same brand of personal service that I provide to my clients.
If you or anyone you know is considering a move anywhere….please give me a call and I will make certain that you are in capable hands wherever the move might be. I can be reached at 719.598.3200 or emailed at Harry@HarrySalzman.com.
As an aside, as I speak with Realtors all around the country I've found that while a lot of the USA is just starting their housing turnaround….we in the Colorado Springs area are way ahead. Part of that is because we never fell quite as low as many areas, but in any event, our recovery is proceeding well above the US norm I'm happy to report.
FOURTH QUARTER 2012 WAS VERY ACTIVE AND INDICATORS ARE ENCOURAGING
Data provided by the Pikes Peak Realtor Services Corp, from Pikes Peak MLS
Where you are a current home owner and curious about the current value of your home or someone who is thinking about buying….Hear Ye! Hear Ye!
Here are the just published local real estate statistics for homes in the Pikes Peak Area.
Things are continuing to look up in the local real estate market. In a nutshell:

New Listings +6.4%,
Sold Listings +10.4%,
Median Sales Price +11.1%.
Average Sales Price +8.9%
% of Sold to List Price +.5%
Days on Market -17.9%
Active Listings -6.1%
Months Supply -13.5%
For a complete overview of the entire 2012 year quarter to quarter, please click here.
You will be happy to see where you are today as compared to a year ago. I've been telling you all year that this was going to happen and here with real market worthiness. If you already own a home, this should bring a smile to your face. On the other hand, if you have been thinking about buying your first home or trading up to your next home, market conditions represented in this report will justify that now is the time to buy a home.
Along with all this general information, also included are statistics for each individual area of the Pikes Peak region. Now you can compare different areas in our community to any other, if you desire, or simply satisfy your curiosity as to how your specific area is doing.
HERE ARE SOME 4th QTR. YEAR OVER YEAR STATISTICS FOR THE PIKES PEAK AREA*
Median Sales Price Average Sales Price
Black Forest: +16.7% +19.1%
Briargate: +11.4% +7.1%
Central: +10.8% +3.6%
Divide: +61.4% +46.1%
East: +14.3% +19.7%
Falcon North: +9.1% +4.5%
Florissant: +14.0% -2.8%
Fountain Valley: +4.7% +7.4%
Manitou Springs: +38.9% +23.0%
Marksheffel: +2.4% -4.5%
Northeast: +4.3% +5.7%
Northgate: +5.9% +2.0%
Northwest: -1.8% -5.1%
Old Colo.City: +3.4% +7.3%
Powers: +12.3% +12.2%
Southeast: -0.9% -0.7%
Southwest: +6.4% +2.2%
Tri-Lakes: +8.8% +2.9%
West: +25.4% +5.4%
Woodland Pk: +6.5% +14.9%
*Statistics from the Pikes Peak MLS, provided by the Colorado Assoc. of REALTORS.
As you can see, things are starting to move rather quickly and the housing recovery in our area is already on its way. To see the complete breakdown on any area listed, click here. As always, I am here to answer any questions you may have about these reports or any real estate concerns you may have.
And, as I mentioned earlier, if you're in the market for a new home, NOW is the time. With a very limited inventory and percent of days on the market quickly going down, I'm finding multiple buyers for homes I have listed in record times. To be certain you can get exactly what you are looking for at a price that fits your budget, call me today at 719.598.3200 and let's start talking.
A NOTE TO STRUGGLING HOME OWNERS
As reported in last week's Wall Street Journal, US Banks are going to have to do more to help struggling mortgage borrowers keep their homes under final rules released last week by the Consumer Financial Protection Bureau.
If you or anyone you know is having a problem with keeping your mortgage current, be sure to contact your service provider and find out what type of relief can be provided.
ALL SIGNS POINT TO HOME PRICE SURGES—HOME SALES ROSE TO 5 YEAR HIGH IN '12
There's good news in most all real estate and general publications I've read lately concerning the housing recovery and home prices being on the rise. In fact, USA Today headlined that "Housing set to give economy a boost in '13" and went on to quote Moody's Analytics chief economist, Mark Zandi as saying that he "expects housing to contribute a fifth of the economy's growth this year, while in 2009 it subtracted more than 1 percentage point from the GDP growth".
While several publications reported a dip in home sales in December, they were not referring to the Colorado Springs market in which homes sales increased 7.8% over the same month a year earlier. In fact, according to the report by Pikes Peak Association of Realtors, Colorado Springs area homes sales totaled 9,146 in 2012—the most since 2007.
WITH RISING PRICES, INVENTORIES FALLING
As I mentioned earlier, along with the good new of rising prices comes the reality of low inventories and fast turnaround times with multiple offers.
The lower inventories can be attributed to several factors including home owners being hesitant to sell if they are not in a position to make a profit or if they don't have enough equity to trade up. Another factor is that investors are continuing to snatch up properties. In the past, they may have fixed up the home for resale, but now many are choosing to hold on to and rent them instead. And, while home building is up, it still has not rebounded as quickly as hoped.
This should come as no surprise to most of you as I've been telling you for some time to expect this and now the time has come. With rising prices, low inventories, new regulations on our doorstep and at the moment still low interest rates….it's now or never for some folks. If you are one of those…there's still time…but the clock is ticking and you don't have long. Or you do, but it will cost you more in sales price and possibly mortgage rates to do so. Call me today at 719.598.3200 and find out how we can make your home ownership goals a reality.
AND FINALLY…..A HONOR FOR ME AND A THANK YOU TO YOU
Once again in 2012 I was honored to be selected to the Peak Producers Club as one of the Pikes Peak Top 10% of real estate Agents. This is something I owe to all of you, my friends and clients, whom it has been my pleasure to serve as your Real Estate Broker. The long time relationships I share with so many of you make it such a pleasure for me to work with you and obviously make is easier for me to know just what your individual needs and wants might be.
If any of you, or any of your relatives, co-workers or friends are looking to buy, sell, or invest in real estate, I'd be honored to help make these dreams a reality. Please call me at 719.598.3200 with any of your needs or refer me via phone or email at Harry@HarrySalzman.com.
JOKE OF THE WEEK
A Little Christian Humor (from a "nice Jewish guy")
Jesus and Satan were having an on-going argument about who was better on the computer. They had been going at it for days, and frankly God was tired of hearing all the bickering. Finally fed up, God said, 'THAT'S IT! I have had enough. I am going to set up a test that will run for two hours, and from those results, I will judge who does the better job. So Satan and Jesus sat down at the keyboards and typed away.
They moused.
They faxed.
They e-mailed.
They e-mailed with attachments..
They downloaded.
They did spreadsheets.
They wrote reports.
They created labels and cards.
They created charts and graphs.
They did some genealogy reports.
They did every job known to man.
Jesus worked with heavenly efficiency and Satan was faster than hell.
Then, ten minutes before their time was up, lightning suddenly flashed across the sky, thunder rolled, rain poured, and, of course, the power went off.
Satan stared at his blank screen and screamed every curse word known in the underworld.
Jesus just sighed.
Finally, the electricity came back on, and each of them restarted their computers. Satan started searching frantically, screaming: 'It's gone! It's all GONE! 'I lost everything when the power went out!'
Meanwhile, Jesus quietly started printing out all of his files from the past two hours of work.
Satan observed this and became irate.
'Wait!' he screamed. That's not fair! He cheated! How come he has all his work and I don't have any? 'God just shrugged and said,
"JESUS SAVES "
FEATURED LISTING
2420 Calistoga DR

| | | | |
| --- | --- | --- | --- |
| Price: $157,500 | Beds: 3 | Baths: 3 | Sq Ft: 2321 |

Great wide open floor plan with vaulted ceilings on main level and master bedroom, master bath includes large soaking tub w/vaulted ceiling. Walk-in closet and ceiling fan in master bedroom. The laundry area is on the main level at entry from the ga...
Harry A. Salzman. CRS, CRP, CNE
e-Pro Internet Certified
Broker/Owner
email: Harry@HarrySalzman.com
Serving: Colorado Springs, Monument. Air Force Academy, Fountain,
Security, Woodland Park, Black Forest, Manitou Springs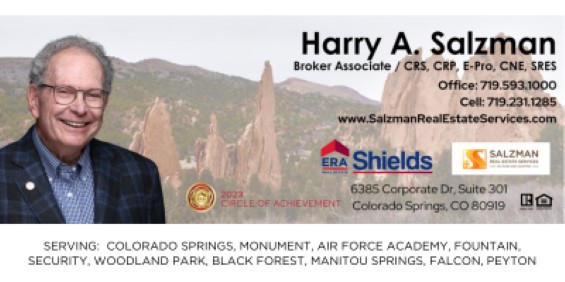 Harry Salzman, Salzman real estate Services, Ltd
538 Garden of the Gods Road, Colorado Springs CO 80907
719-598-3200 or Toll Free: 800-677-MOVE(6683)




Visit http://www.SalzmanRealEstateServices.com
Change your email preferences here.